How to take the bike on the train? How much does it cost? How do you do it? Here is the answer
The train has some great qualities: it takes you to even remote places quickly and doesn't force you to go back to where you left off (to get your car back).
A mode of transport hated and loved by cyclists based on their misadventures on the tracks. The train remains an excellent and low environmental impact method to start our journeys.
Here's how to do it from our direct experience: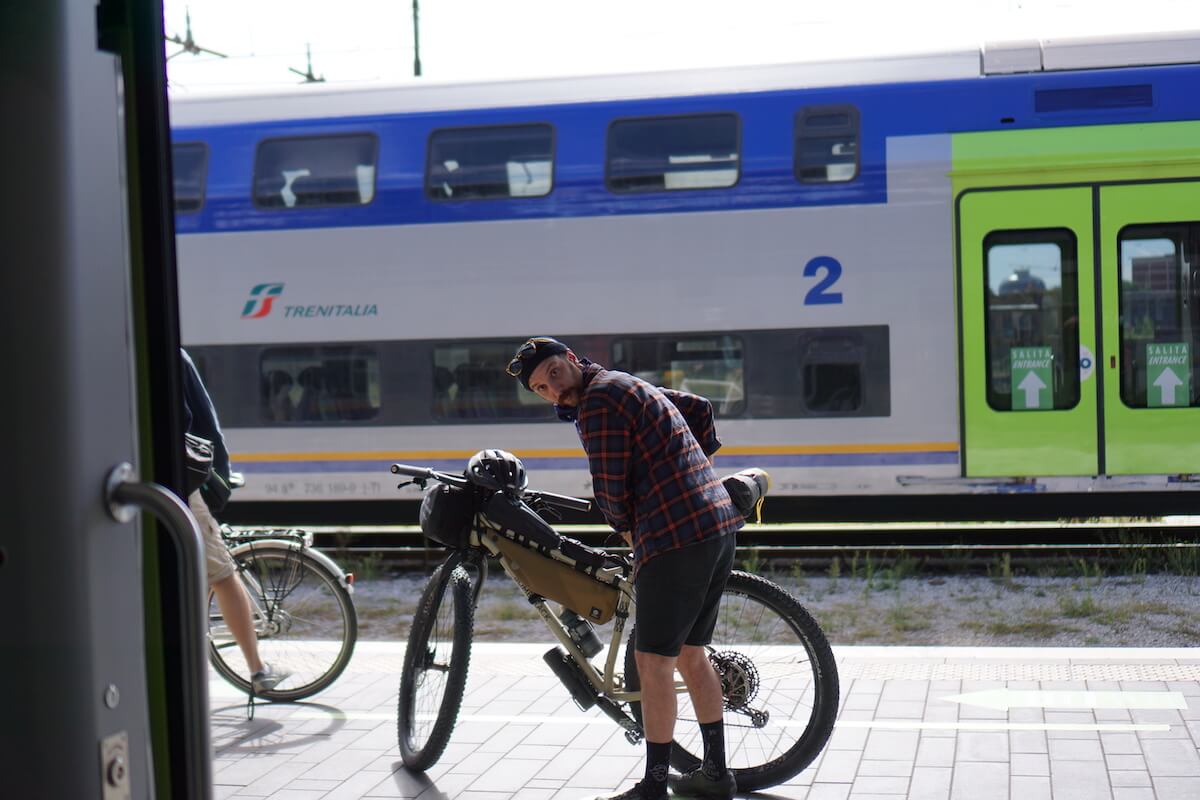 Taking your bike by train in Italy
The bicycle on the Regionals
On the Ferrovie dello Stato network in some regions, you can find local operators (such as Trenord in Lombardy), but in the vast majority of cases, you will use the classic regional ones, those that stop in villages.
Generally, all regionals have a carriage intended to carry bikes, in some cases hung with hooks and others in a horizontal position using supports. The spaces in this carriage are limited to about six stations, but in case of crowding, there can be up to fifteen leaning on each other: yes, it's not always ideal.
In more virtuous regions, i.e. where bike tourism is more present, you can find carriages with dozens, if not hundreds, of dedicated bike spaces. This is the case of Friuli Venezia Giulia on the Alpe Adria cycle path section.
There is no reservation on this type of train, and you have to buy a supplement to your ticket of €3.5 (on average), which lasts all day and on the entire Trenitalia network.
If you come across Rock, Jazz, Pop and Swing regional trains, the bicycle seats are in some passenger carriages, and usually, there are 2 loaded bicycles on each side.
How do you buy the ticket for the bike on the regional trains?
You can either buy it at the automatic ticket machines or from the Trenitalia app by going to "Purchase", "Regional Services and Promotions", and then selecting "Bike Supplement".
Bringing the bike on the Intercity
For some years on the Intercity – slightly faster than the Regionals but with the great advantage of not having to change between large cities – it is possible to bring your assembled bike.
However, there are only 6 vertical spaces on the dedicated carriage, so a typical handlebar will occupy 2 spaces per bike. The cost is always €3.50, but reservations are required.
How do I book the bike space on the Intercity?
First, choose a route covered by this type of train and choose the right one. Then tick select seat and choose carriage 3: there are the racks. When paying, select "complete my trip" and add the bike transport service.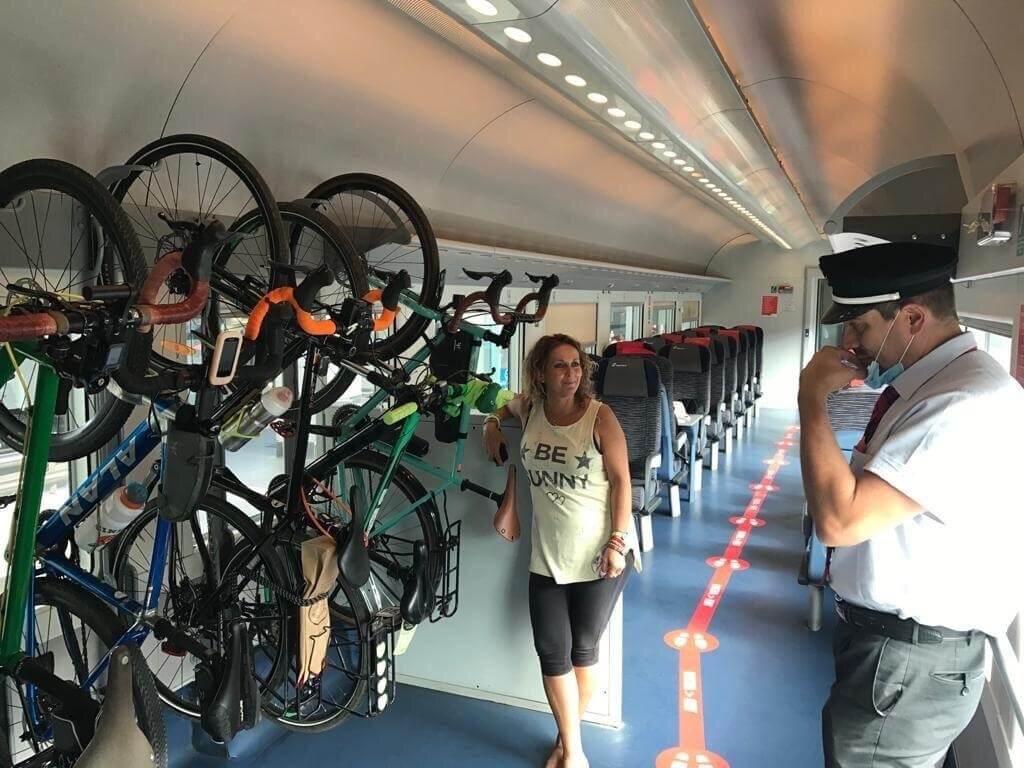 Loading the bike on high-speed trains
On the Frecce and Italo, it is not possible to bring your assembled bike.
You should use a bag or case, remove the wheels, and place your precious cargo in the appropriate spaces. Doesn't it fit? We had no issues.
We advise you to select the seat near the dining car or where there are vending machines and place the bag in this, keeping an eye on it. If you are looking for an economical bag for train travel, we tested this Decathlon bag and were very satisfied with its performance.
Warning: not suitable for air transport, affiliate link.
Taking your bike on trains abroad
Longing for Europe? The railway network is very dense, and thanks to the European agreements, numerous cross-border sections are dedicated to tourists and travellers. As they say in the south, "every cockroach is beautiful for its mother", and in the north, "everyone dances with his aunt" (I swear, that's what they say in Friuli). Every town has its rules: in general, reservations are always required, and the cost varies from 3 to 10 € each way.
We cannot cover all European countries, but here are some details from our direct experience.
Transport by bike in trains in Germany
In Germany, the railway network is managed by Deutsche Bahn (DB), which is definitely one step ahead of us. Almost all trains have a bike space, and some have spacious carriages where a kind operator will load your bike.
The cost varies because it is based on the route, but there are few surprises: just check on the site "show only routes with bike transport", and you're done.
On DB on longer routes, be careful because booking is mandatory. Your bike will have its place designated with a letter and a number (the same as for human beings): the Germans are meticulous about this, so make sure you place your bike in the space allocated to not hear a "Hier, die üblichen Italiener pizza mandolin".
Joking aside, the inspector fines you if you get on without booking a bike or leave it randomly on the carriage.
You can take your bike on any type of train, but you have to be careful of those marked as "fully loaded", i.e. the regional trains that commuters use for transport because it is very likely that it is not allowed to load an assembled bike on these trains.
The solution is to avoid peak hours. Therefore, avoid travelling with your bike in the morning or between 5-7 pm.
Bike transport on trains in Austria
Austria is similar to Germany: reservations are required on OBB trains . You can take your bike on practically any train, and the cost each way is €3.
The selection is very simple: when you look for a ticket on the OBB website, add the bike ticket to yours, and it will only show you the trains available for the transport of your two-wheeler.
Attention: OBB also manages buses, especially from Italy, and it is possible to bring the bike on these vehicles but in practice, there is at most room for two bicycles.
Bike transport in Scandinavian trains
In practically all Scandinavian countries, bikes can be taken on trains, always with the booking and ticket purchase method.
There is one big exception which is Sweden, where the train service is privatised, so it's a big mess.
Usually, you can bring the bike assembled, but it is better to check from section to section because crossing different counties or provinces can change the rules.
Bike transport on trains in Slovenia
You will probably arrive in Slovenia with a DB or OBB or even Trenitalia train (to and from Trieste), but if you want to move within Slovenia, you will have to check train by train (therefore not only according to the route) if the model you will find has the space dedicated to the bike. The cost of the ticket is €1.50.
Bike transport on trains in France
As we can expect, the situation of our transalpine cousins is very complicated. Generally, for the Regionals (the TER), there is a situation similar to ours, and you can bring your bike without a reservation.
The other type of train you will take is most likely the Intercites: the ticket costs €10 and in practice almost always requires a reservation.
Management of bikepacking bags on the train and safety
There are three possible solutions for storing your bike on the train: hanging, horizontally or in a bag.
But we travellers have one more problem: bags.
If the weight is not excessive and the journey does not exceed 5 hours, we can keep the saddle bag and the frame bag attached to the bike, but we recommend removing the one on the handlebar and on the fork because stimulating these parts too much is not the best position vertical.
On some trains, they will explicitly ask to remove the bags, all of them. When should it be done? The conductor decides. We advise you to arrive early on the platform, locate a staff member and ask. Cyclists with bags always receive sympathy, so they may favour you if you approach them with a smile and kindness.
If, on the other hand, you are delayed, we recommend that you quickly remove everything and arrange the bags as if they were suitcases in the spaces of the train.
If you are using the bag mode, unfortunately, there is little you can do: you will need another bag to carry the bags. The punk solution is to use a large black garbage bag, and the more chic answer is to join the bags with straps and create a single bag to hang from one shoulder. However, there will be discomfort.
Depending on the bag you have, you may be able to fit the frame bag and the handlebar bag inside, but it depends on how it is made.
Regarding security, we advise you never to trust that your bike will be safe when out of sight. We use an Abus Bordo Lite (link aff) to tie the bicycle to any fixed support. In general, we choose a seat that allows us to have a direct line of sight with our bike at all times.
How was your experience with the bike and train combo? Write it in the comments below!