Registrations for the Tuscany Trail 2023 are officially closed, and this year there will be many at the start of Castagneto Carducci: 4,796.
We know that the Tuscany Trail is the testing ground for many novice bikepacking cyclists.
For this reason, we want to give you some practical suggestions, while you can already imagine the pici dishes you will eat during the 470 km to discover Tuscany.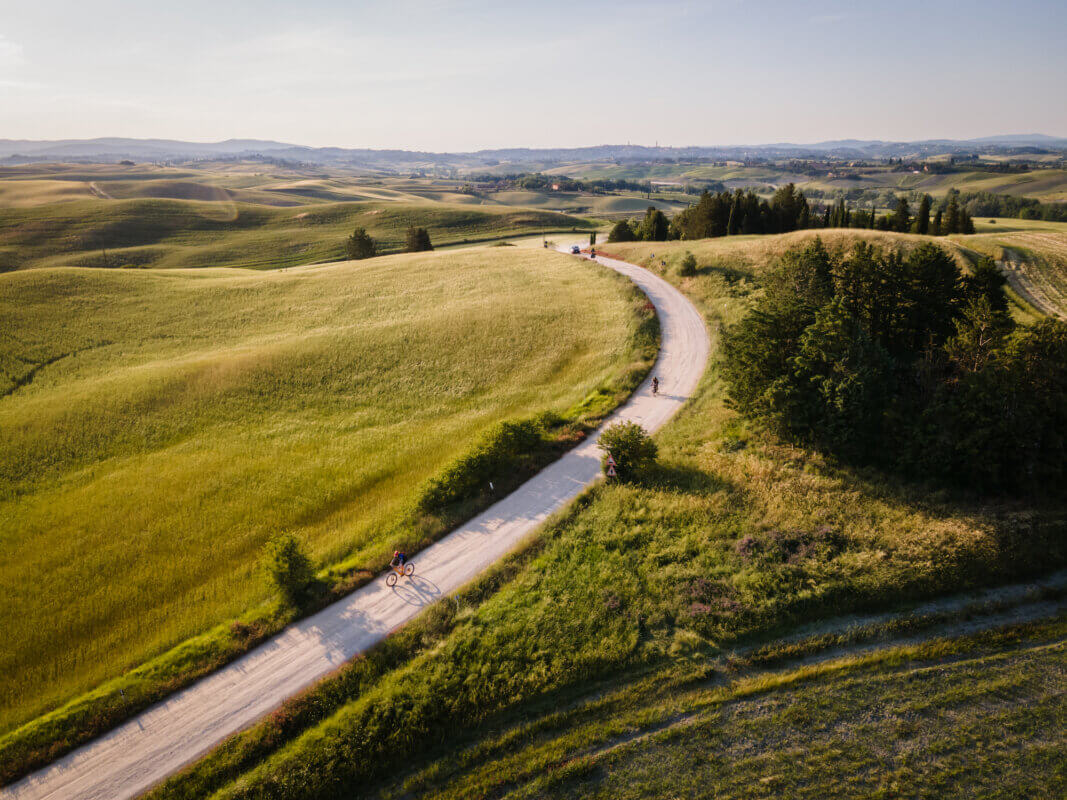 The Tuscany Trail starts on June 1st and 2nd (It is a french style departure, so you can choose which day to leave).
It may seem trivial to you, but in June, it's hot.
Not only could it be sweltering, but you will also be constantly exercising for 4 to 5 days.
Take hydration seriously, and if you know you don't often remember to drink, set a 30-minute alert on your cycle computer or phone to help you remember to take a sip from your water bottle.
Hydration is essential for optimal performance and your health. So naturally, it is essential for a bikepacking endurance event such as the Tuscany Trail.
To put it another way, water is essential in the chemical process that takes place in our body when we need to produce energy (therefore, at all times when bikepacking). If your body is low on water, you simply won't have the strength to pedal.
We advise you to bring at least two bottles, perhaps a thermal one ( here you can find a review of the Elite NanoFly, which we recommend), to keep the water cold for 4 hours. In the coming weeks, you will find on our site another guide on why you should have a cap on your bottle, that piece of plastic that protects the spout in such a way as not to eat dirt and dust.
In addition to water, we advise you to bring along a tube of tablets containing mineral salt supplements. In fact, most of the fatigue derives from losing these elements in your body. On the road, it is not easy to replenish these lost electrolytes and salts, and it is unlikely that you'll be able to carry a basket of bananas and lots of oranges on your bike.
How to refill your water on the route?
During our test of the track, we found a lot of public fountains, but you can also mark them down on Komoot. When you open the app, you can search for "Public fountains" and save them as waypoints on your track or find them directly using the search functions.
Also, keep an eye out for highlights marked by the local community – they may point you to new or unmarked supply points on Open Maps.
Although we will be in a spring very similar to summer, keep in mind that it could rain. Bring the rain kit in your bags:
– Waterproof jacket
– Waterproof overtrousers
– Waterproof overshoes
– Watertight bags for wallet, phone etc.
Obviously, we recommend using waterproof bikepacking bags: if you need an upgrade, Tuscany Trail members will get a discount code from Miss Grape.
And variable temperatures
Even if it will likely be hot, don't be unprepared for a sudden temperature change. You won't need a duvet, but consider bringing a slightly heavier, long-sleeved shirt. A windproof jacket is definitely a must.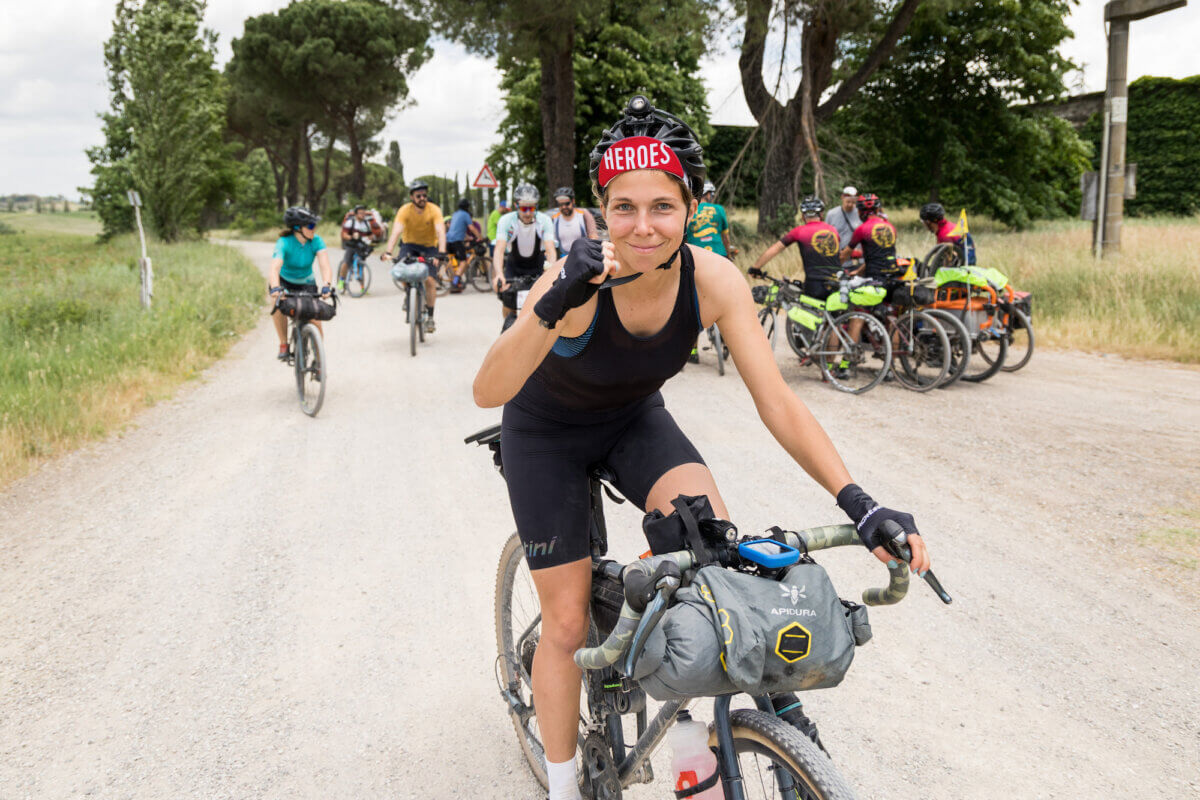 The Tuscany Trail is not a race, and you will already notice upon registration that the general mood is very relaxed. As we wrote at the beginning, this event is excellent for a first step in cycling trips, but still, there will be lots of pedalling and overcoming the Tuscan hills.
For all these reasons, be realistic in dividing the stages and remember that you will be in one of the most beautiful areas of Italy. Take your time for breaks, thoroughly enjoy it, and not introduce stress even while pedalling: divide it into a mileage and climb that adapts to your level of training or simply how you want to tackle the Tuscany Trail.
To sum up, live this experience as it is intended: with enthusiasm and fun.
When it's hot, it's not easy to remember to eat, but try to carry dried fruit, bars or gels in your handlebar bags to be consumed at least every hour.
Remember that when you pedal, you will consume a lot of energy and must replenish it with quickly assimilated carbohydrates. Otherwise, you could get the classic blow of tiredness (Hit the wall) from which it is difficult to recover.
Again, we recommend activating a reminder on your bike computer or phone. Luckily, however, you will be in Tuscany and therefore very unlikely you will not find good food.
For lunch and dinner, we strongly advise you to eat typical food in the many inns, taverns and clubs you will find along the way.
It is good practice to be self-sufficient if some unforeseen mechanical issue occurs along the way. Whether you ride tubeless or tubular, bring at least 2 inner tubes and the tools to make essential repairs:
A

multitool

with all the keys to operate on the bike

The tubeless repair

kit

(worms, mastic, etc.)

A hand

pump
To be 100% sure, we recommend trying the Vittoria Air-Liner system, which you can find for both Gravel and MTB. Air-Liner GRAVEL is a tubeless-ready insert for gravel tyres. It's effortless to install: just insert it inside the tire like a regular inner tube, use the sealing liquid and use a standard bike pump.
The insert is compatible with the use of sealing liquid, preferably ammonia-free.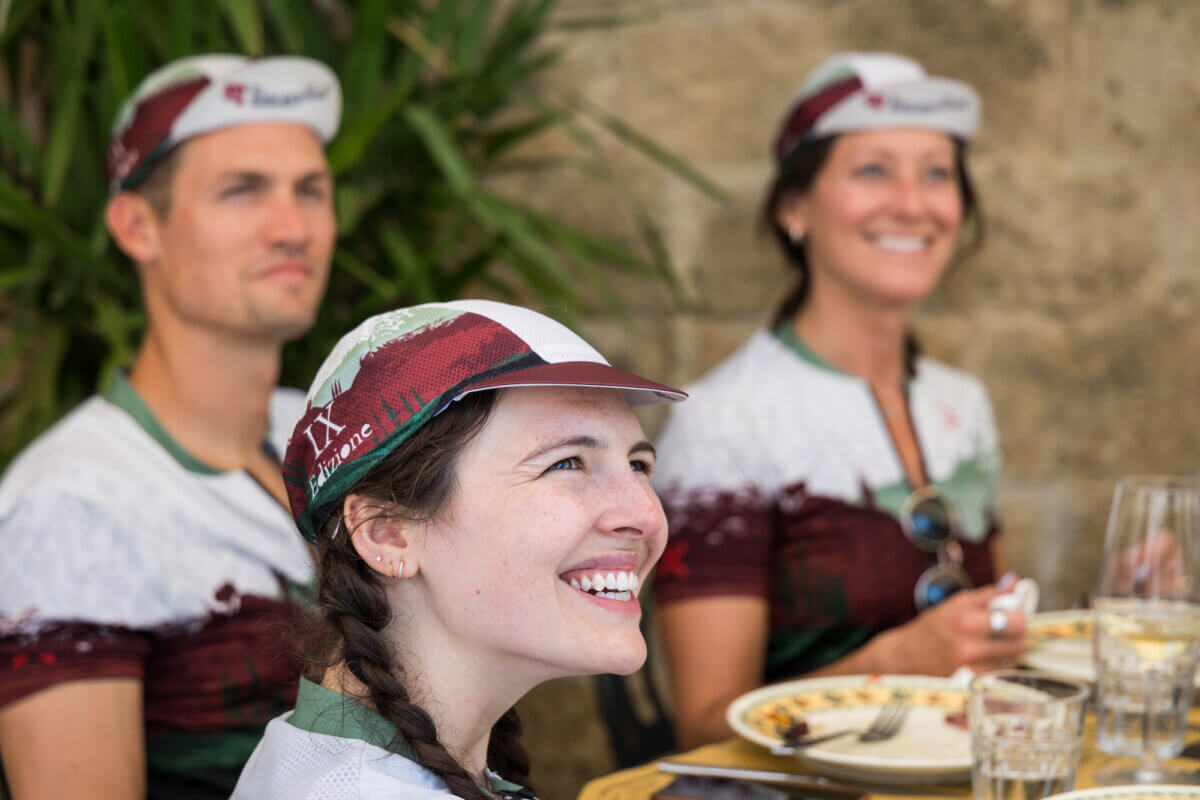 If it's your first bikepacking experience, remember to have fun and remember you can do it. You will be on a stunning trail with lots of people who share your passion: take the time to enjoy it!