Bushcraft for bikepacking
If you want to take your bikepacking trips to the next level, you need to learn the basics of bushcraft – the art of surviving in the wilderness using only natural materials found in the environment. This skill can be handy when you get stuck in the middle of nowhere while on a bikepacking trip.
In this article, we will talk about some basic bushcraft skills that you need to know.
What is Bushcraft?
Il Bushcraft is a term used to describe the skills and knowledge required to survive in the wild. It includes building shelters, foraging for food and water, preparing fires, and navigating using only natural landmarks.
Il Bushcraft requires a deep understanding of the natural world and the ability to read the cues nature provides us. For example, identifying edible plants or spotting animal tracks can mean the difference between life and death in a survival situation.
Il Bushcraft also involves the use of tools and equipment. In many cases, the only tool available may be a knife, so it's essential to know how to use it for tasks like chopping wood.
Il Bushcraft is not only about surviving in nature but also enjoying and appreciating the beauty of nature. Camping under the stars, listening to the sounds of the forest and watching the sunrise from a mountaintop are all bushcraft experiences.
There are many different ways to learn the techniques and "tricks" of this discipline. There are courses offered by organisations such as the Scout Association and private instructors who provide their services. Many resources are also available online and in libraries for those who want to learn more about this fascinating subject.
These skills can come in handy when you find yourself stranded in the middle of nowhere on a bikepacking trip or if you need to build a shelter or fire in an emergency.
One of the most important aspects of bushcraft is knowing how to identify edible plants and animals. Many poisonous plants in nature can make you sick, so it's essential to know the difference. You should also be able to identify which parts of an animal are edible, as not all parts are safe to eat.
Another fundamental aspect of bushcraft is knowing how to build a shelter. If you find yourself in a situation where you must spend the night outside, you need to know how to build a shelter that protects you from the elements. You can go from creating a simple canopy with branches and leaves to building a more complex shelter with logs and other materials.
Knowledge of how to make a fire is one of the most valuable skills in bushcraft. Fire can be used for warmth, cooking, lighting, and protection from predators. There are several ways to start a fire, so it's important to learn as many as possible. The most common method is to use a friction fire starter, such as a bow drill or hand drill.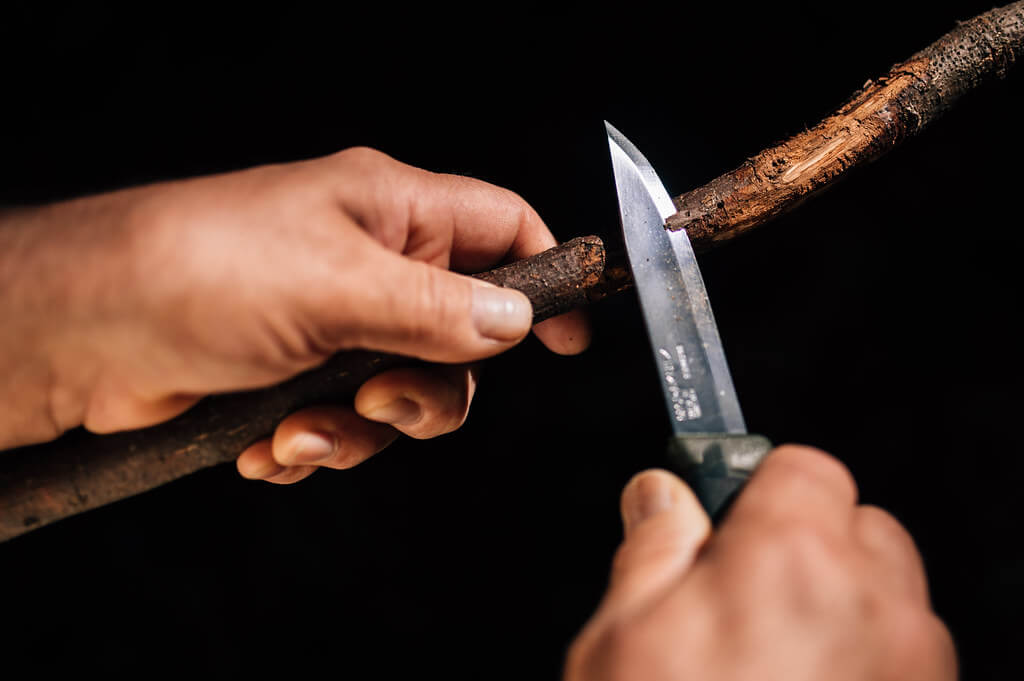 How to recognise edible plants
When looking for edible plants, it is vital to be able to identify which plants are safe to eat and which are not. There are many factors to consider when determining if a plant is edible, including the leaves, stems, flowers and roots.
One of the most important things to look for when identifying an edible plant is its leaves. A leaf's shape, size and colour can often provide clues as to whether or not it is edible. For example, small, oval leaves are more likely to be edible than large, round ones. Also, green or yellow leaves are generally safe to eat, while red or purple leaves may not be.
The stems of a plant can also help determine whether or not it is edible. Thin, smooth stems are usually safe to eat, while thick, thorny stems are not. Additionally, the flowers of a plant can provide clues as to its edibility. Brightly-coloured, sweet-smelling flowers are usually safe to eat, while dull-coloured or bitter-smelling flowers may not be.
Finally, the roots of a plant can also be useful in determining whether or not it is edible. Roots that are white or light in colour are usually safe to eat, while dark or black roots may not be. With all of these factors in mind, it's essential to use your judgment to determine whether a plant is edible.
When in doubt, it is always best to choose caution and avoid eating any plant that cannot be positively identified as safe.
In Italy, there are numerous courses offered by national parks and by the CAI to learn how to recognise the plants you can eat: we advise you to attend them before eating any berry or plant that you do not know or have already eaten.
How to build an emergency shelter
When disaster strikes, it's crucial to have a plan for finding shelter. If you find yourself with no safe place to go, your best bet is to build an emergency shelter. This will protect you from the elements and help you survive until help arrives.
Building an emergency shelter is easier than you might think. With some planning and basic materials, you can create a space that keeps you safe and comfortable until help arrives. Here are some tips on how to build an emergency shelter:
Find a suitable place. When choosing a spot for your emergency shelter, look for an area away from floods, landslides, or other potential hazards. Also, you must ensure the site is large enough to comfortably accommodate everyone in your group.
Clear the area of debris. Once you find a suitable location, remove any debris or obstacles hindering your efforts to build a shelter. This will make it easier to set up your shelter and more comfortable to live in.
Gather the materials for the walls and roof. Depending on the materials at your disposal, there are different ways to construct the walls and roof of your emergency shelter. Some common options include using trees, logs, rocks, or even cardboard boxes.
Make some ventilation holes. Once the walls and roof of your shelter are in place, be sure to create several ventilation holes. This will help circulate the air and prevent condensation from building up inside the shelter.
The insulation will help keep your shelter warm in cold weather and cool in hot weather. Some common insulating materials are leaves, grass, and straw.
Cover the entrance. Once you've finished building your emergency shelter, cover the entrance with a windproof garment or the bike itself.
Then it is necessary to create the supporting structure of the roof with the heaviest pieces, taking care that the corners are well fixed to the ground so that it does not move. The arrangement must be quite tight to prevent water from flowing through the cracks between the various elements. Next, you can place two thick layers of plant matter (dry leaves) superimposed in the shape of an X; the second layer should be stacked to cover the one below. Finally, once the roof's construction has been completed, you can assemble the other parts of the shelter.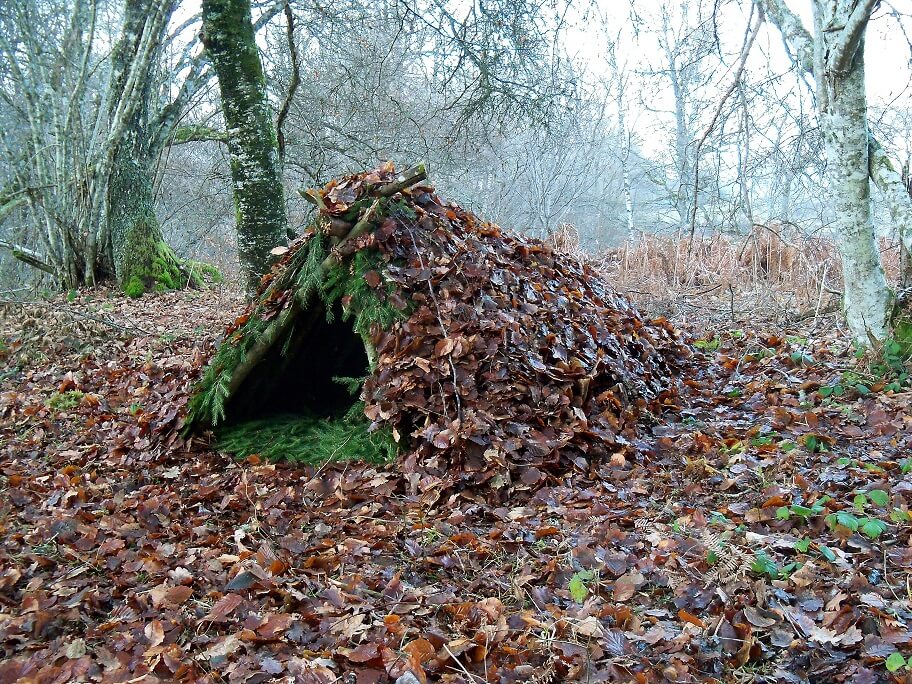 Il The Triangle of Combustion
A fire needs three things to start: heat, fuel and oxygen. The heat can come from a match, a lighter, or even the sun. Fuel can be anything capable of burning, such as wood, paper, or gasoline. The oxygen present in the air allows the chemical reaction of combustion.
When all three elements are present, they form the so-called combustion triangle. And it is precisely this triangle that must be present for a fire to ignite.
If one of the sides of the triangle is missing, the fire will not be able to light. For example, if there is no heat, the fuel will not be able to ignite. Or if there is no oxygen, the fire will quickly suffocate and go out.
To keep burning, a fire needs a constant supply of fresh air, which supplies the oxygen required for combustion. If a fire is enclosed in an airtight room, sooner or later, it will run out of oxygen and go out.
The triangle of combustion is a simple but important concept to understand if you want to start a fire.
How to light a fire
The first thing to do is find a suitable place to do it. Ensure you are authorised to light a fire and that there is an open area with little vegetation.
One way to start a fire from scratch is to use the Teepee Campfire technique, well known to many scouts, though not always the most efficient. To begin with, get several thin twigs and some bark. Arrange them to form two X-shape on the base of a burner (a small pile of wood). Press the pieces into the central pile to create gaps to place the finer sticks vertically within the core, like overlapping strings.
At this point, you can take water or wet sand and place it on the core of the hearth – it is called "cold light ", which is essential because it softens the fibres of the bark and accelerates ignition.
Now all you need is flammable tinder; it can be dry leaves used as straw, sticks or matches; another method is to use a dry cloth. Place them between the branches and light the tinder with a lighter or something else; at this point, the fire should start easily with a slow and constant blow.
How to orient yourself in nature using what's around you without GPS or a phone
There are ways to get your bearings if you find yourself out in the wild without a GPS or phone. You can use the sun, stars, moon, and other natural landmarks to help you figure out which way is north.
The sun rises in the east and sets in the west, so if it's daytime and you know roughly what time it is, you can use the sun to tell which way is east or west. If you don't know what time it is, you can still use the sun to find north. The sun is always directly south at noon, so if you draw an imaginary line from the sun and across the horizon, that line will point north.
The stars also revolve around the Pole Star, so if you can find the Pole Star in the night sky, you'll know which way is north. The moon also orbits the Earth from west to east, so if you see the moon rise in the sky, you'll know that the east is in that direction.
Some plants can help you find your way around. For example, moss grows mainly on the north side of trees because it needs less sunlight. So, if you see moss growing on a tree, it means the direction is north. This is a solution that only sometimes works but can give you a good indication.
Knowing which way north is can be helpful in many situations, such as when trying to find your way back to your campsite or car. It can also be useful in an emergency situation when you need to signal for help or find your way out of the woods. By familiarising yourself with some of these orienteering techniques, you'll be better prepared the next time you find yourself in a situation where GPS and phones aren't working.
The most useful knot
The square knot is one of the most useful knots to know when camping. The square knot is a versatile knot that you can use for various tasks, such as securing a tarp to trees or securing cargo on a pack animal. To make a square knot, start by taking two lengths of string and crossing them in the middle.
Take one end of each string and tie it around the other string, making sure the string forms a loop. Next, take the other end of each string and thread it through the loop created by the first step. Finally, pull both ends of the rope until the knot is tight.
The square knot is a strong and reliable knot that you can use in many different situations.
Bushcraft book recommendations
If you're interested in learning more about bushcraft, there are some great books that can teach you the basics. Mors Kochanski's "Bushcraft" is an excellent manual on the subject, while Ray Mears' "The Complete Book of Bushcraft" is another excellent resource. Both books cover making a fire, building shelter, foraging, and basic survival skills in the wild.
If you're just starting in bushcraft, these books can provide a solid foundation to build your knowledge. However, remember that experience is no substitute for learning these kinds of skills.