As you embark on this exciting journey, we're here to provide you with all the information and inspiration you need to make your Italian bikepacking adventure a truly unforgettable experience.

Italy is a country steeped in history, culture, and breathtaking landscapes, making it an ideal destination for cyclists seeking the perfect blend of adventure, discovery, and delicious food and wine.

From the rolling hills of Tuscany to the rugged coastlines of Sicily, Italy's diverse terrain offers endless possibilities for bikepackers of all skill levels and interests.
In this comprehensive guide, we'll cover everything you need to know before setting off on your Italian bikepacking trip, including trip planning, essential gear, navigating the country's diverse landscapes, and respecting local customs and traditions.

We'll also introduce you to some of the most picturesque and lesser-known regions and routes that will make your cycling trip truly unique. So, strap on your helmet, pump up your tires, and let's dive into the captivating world of bikepacking in Italy!
Choosing Your Destination:
Finding the Perfect Route for Your Italian Bikepacking Adventure
With so many beautiful regions and diverse landscapes to explore, deciding where to go for your bikepacking adventure in Italy can be both exciting and overwhelming. To help you narrow down your options and find the perfect route, consider the following factors:
Your cycling experience and fitness level: Italy offers bikepacking routes for all skill levels, from leisurely rides through vineyards and olive groves to challenging mountain passes in the Alps or Dolomites. Assess your cycling experience and fitness level, and choose a route that matches your abilities and comfort zone.
Duration of your trip: The length of your bikepacking trip will play a significant role in determining your destination. If you have a limited amount of time, consider exploring a smaller region or selecting a shorter route. For longer trips, you can cover more ground and immerse yourself in multiple regions or tackle a long-distance trail like the Via Francigena.
Interests and preferences: Think about what you'd like to experience on your bikepacking adventure. Are you drawn to the art and history of cities like Rome, Florence, and Venice, or do you prefer the tranquility of the countryside, coastlines, or mountains? Consider your interests, whether it's wine tasting in Tuscany, exploring ancient ruins in Sicily, or conquering challenging mountain passes in the Dolomites.
Climate and season: Italy has a diverse climate, with significant differences between the north and the south. The best time for bikepacking in Italy is generally during the spring (April to June) and fall (September to October) when temperatures are mild and the tourist crowds have thinned. Keep in mind that some regions, especially in the mountains, may be more challenging or inaccessible during certain seasons due to weather conditions.
Local culture and events: Research local festivals, cultural events, and traditions in the regions you're considering for your trip. These unique experiences can add a memorable touch to your bikepacking adventure and provide an opportunity to engage with the local community.
Once you've considered these factors, take some time to research specific routes: we have a whole section about that!
Cycling Culture Differences Across Italy: North, Central, and South
Italy has a long and storied history with cycling, both as a sport and as a means of transportation. However, the cycling culture varies across the different regions of the country, reflecting their unique characteristics and traditions. Here's an overview of the distinct cycling cultures in North, Central, and South Italy:
1. Northern Italy:
Cycling culture in Northern Italy is strongly influenced by the region's challenging terrain and the presence of iconic professional races, such as the Giro d'Italia and Milano-Sanremo. The sport is deeply ingrained in the local culture, and you'll find numerous cycling clubs, organized group rides, and races throughout the region.
Northern Italy is home to many professional cyclists and well-known bike manufacturers, further cementing its reputation as a cycling hub. Additionally, the region has an extensive network of bike paths and facilities, making it more accessible for both locals and tourists alike.
2. Central Italy:
Central Italy's cycling culture is heavily influenced by its picturesque landscapes, history, and tradition. This region is particularly famous for its "strade bianche," the iconic white gravel roads that wind through the Tuscan countryside. These roads have given rise to popular events like the Tuscany Trail, the most participated bikepacking event in the world.
Cycling in Central Italy is often associated with leisurely rides through vineyards, olive groves, and medieval towns. However, the region also has its fair share of challenging climbs. Central Italy's cycling culture is a blend of sport, leisure, and exploration, as cyclists often stop to enjoy the local food, wine, and history along their routes.
3. Southern Italy:
Southern Italy's cycling culture is less developed than in the North and Central regions, but it is steadily growing in popularity. The rugged landscapes, dramatic coastlines, and rich cultural heritage of the South provide a unique backdrop for cyclists seeking off-the-beaten-path adventures.
In Southern Italy, cycling is often more focused on exploration and experiencing the local culture. You'll find fewer organized races and events in this region compared to the North and Central parts of the country. 
It is important to note that road conditions and traffic safety can be more challenging in Southern Italy. The road surfaces may be less well-maintained, and cycling paths or designated lanes might be scarce or poorly marked. Additionally, drivers in this region might not be as accustomed to sharing the road with cyclists, which could lead to potentially dangerous situations.
When planning a bikepacking adventure in Southern Italy, be prepared for these challenges by choosing routes carefully, staying aware of traffic conditions, and equipping your bike with proper safety gear, such as lights and reflective materials. Despite these challenges, Southern Italy's unique landscapes and culture make it a rewarding destination for those willing to venture off the beaten path.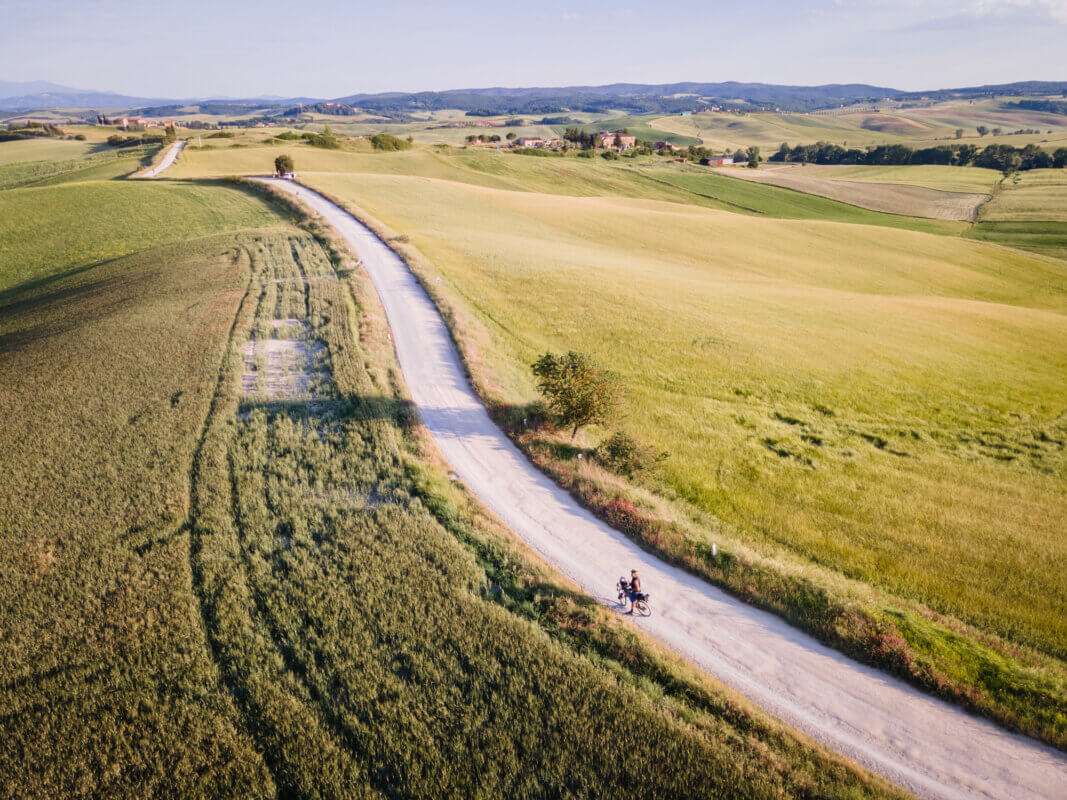 Navigating Italy's Roads: Understanding the Different Types of Streets and Routes
As you plan your bikepacking trip through Italy, it's essential to familiarize yourself with the different types of roads you might encounter along the way. Italy boasts a diverse network of streets and routes, each with its own unique characteristics and challenges. By learning their names in Italian and understanding their features, you'll be better equipped to navigate the country safely and efficiently.
Here's a rundown of the most common road types in Italy:
Autostrada (Highway): Autostrade are Italy's high-speed, limited-access toll highways, similar to freeways or motorways in other countries. They are denoted with an "A" followed by a number (e.g., A1). As a cyclist, you are not allowed to ride on autostrade, so be sure to plan your route accordingly to avoid these roads.
Strada Statale (State Road): Strade statali are major roads managed by the Italian state and are denoted with an "SS" followed by a number (e.g., SS1). They often connect larger cities and towns and can be quite busy with traffic. While it is legal to cycle on strade statali, it is generally advisable to seek out quieter, safer alternatives whenever possible.
Strada Regionale (Regional Road): Strade regionali are similar to strade statali but are managed by regional authorities. They are denoted with an "SR" followed by a number (e.g., SR2). These roads may have less traffic than strade statali, but it's still a good idea to exercise caution and consider alternative routes when planning your bikepacking adventure.
Strada Provinciale (Provincial Road): Strade provinciali are managed by provincial authorities and are denoted with an "SP" followed by a number (e.g., SP3). These roads often connect smaller towns and villages and typically have less traffic than strade statali or strade regionali, making them more suitable for bikepacking.
Strada Comunale (Municipal Road): Strade comunali are local roads managed by individual municipalities. They are typically smaller and quieter than other road types, making them ideal for cycling. Strade comunali may not always be well-marked, so it's essential to have a detailed map or GPS device to help you navigate.
Strada Bianca (Unpaved Road): Strade bianche are unpaved roads or gravel tracks often found in rural areas, particularly in Tuscany and other parts of central Italy. These roads can be an excellent option for bikepackers looking to avoid traffic and enjoy a more off-the-beaten-path experience. However, be prepared for rougher surfaces and ensure your bike is equipped to handle the terrain.
Ciclovia (Bike Path): Ciclovie are dedicated bike paths or lanes, separated from motorized traffic. While not as extensive as in some other European countries, Italy does have a growing network of ciclovie, particularly in urban areas and along popular cycling routes. Keep an eye out for signs indicating ciclovie and take advantage of these safer, more enjoyable cycling spaces whenever possible.
By familiarizing yourself with these road types and planning your route accordingly, you'll be well-prepared to navigate Italy's diverse network of streets and enjoy a safe, memorable bikepacking adventure.
Integrating Train Travel with Your Bikepacking Adventure: Discover Italy's Scenic Railways
In addition to cycling, consider incorporating train travel into your bikepacking itinerary to cover longer distances or access more remote regions of Italy. Italy's extensive train network is often bike-friendly, allowing you to bring your bicycle on board and enjoy a scenic, hassle-free journey between cycling routes. By combining cycling and train travel, you can experience the diverse landscapes and attractions that Italy has to offer, from the soaring peaks of the Dolomites to the sun-soaked shores of Sicily.
To learn more about the ins and outs of traveling with your bike on Italian trains, be sure to check out our in-depth article, "Taking Your Bike on Italian Trains: A Comprehensive Guide." 
Basic Road Rules for Foreign Cyclists in Italy
As you prepare for your bikepacking adventure in Italy, it's essential to familiarize yourself with the country's basic road rules to ensure a safe and enjoyable experience. While many of these rules are similar to those in other countries, there may be some differences that are important to note. Here's an overview of the basic road rules for foreign cyclists in Italy:
Ride on the right side of the road: In Italy, traffic flows on the right side of the road, and cyclists should follow the same direction. When riding in a group, ride single file or, at most, two abreast to avoid obstructing traffic.
Obey traffic signs and signals: Just like motorists, cyclists must obey all traffic signs and signals, including stop signs, yield signs, and traffic lights. Be sure to familiarize yourself with common Italian road signs before your trip.
Use hand signals: When turning or changing lanes, use hand signals to indicate your intentions to other road users. For instance, extend your left arm horizontally to signal a left turn and your right arm horizontally for a right turn.
Stay visible and use lights: Make sure you're easily visible to other road users by wearing bright, reflective clothing, especially in low-light conditions or when riding at night. Italian law requires bicycles to be equipped with a white front light, a red rear light, and reflectors when riding in the dark or in poor visibility conditions.
Wear a helmet: While helmets are not legally required for adult cyclists in Italy, wearing one is highly recommended for your safety. For children under 16, wearing a helmet is mandatory.
Don't ride under the influence: Cycling under the influence of alcohol or drugs is illegal and dangerous. Stay safe and responsible by avoiding alcohol consumption before or during your rides.
Use cycle lanes when available: If a designated cycle lane or path (ciclovia) is available, make use of it to ensure a safer ride. Keep in mind that pedestrian areas, such as sidewalks and zebra crossings, are generally off-limits to cyclists unless specifically marked otherwise.
Be cautious at intersections and roundabouts: Approach intersections and roundabouts with caution, giving way to traffic coming from the right unless otherwise indicated by traffic signs or signals. On roundabouts, signal your exit to inform other road users of your intentions.
Please don't ask pineapple on pizza 🙂
Participating in Local Cycling Events: A Great Way to Discover Italy and Test Your Skills
If you're looking to enhance your bikepacking experience in Italy, consider joining one of the many exciting cycling events held across the country. These events offer a unique opportunity to explore Italy's beautiful landscapes, immerse yourself in the local cycling culture, and challenge yourself in a supportive and friendly environment. Here are three popular cycling events that cater to various interests and skill levels:
Tuscany Trail: The Tuscany Trail is an independent bikepacking event that takes participants on a scenic journey through the heart of Tuscany. The route covers approximately 500 kilometers and showcases the region's stunning countryside, historic towns, and famous vineyards. Ideal for off-road enthusiasts and those looking to experience the charm of rural Tuscany, this event is a fantastic way to test your bikepacking skills and create lasting memories.
Unpaved Roads Gravel Series: The Unpaved Roads Gravel Series is a collection of gravel cycling events held in different Italian regions. These events cater to riders of all skill levels, offering a mix of challenging and leisurely routes that traverse a variety of terrain. By participating in the Unpaved Roads Gravel Series, you'll have the chance to explore Italy's diverse landscapes, from the rolling hills of Tuscany to the rugged trails of the Dolomites, while connecting with fellow gravel enthusiasts and pushing your limits.
The Grand Escape: The Grand Escape is a multi-day road bikepacking event designed for riders seeking a blend of adventure, camaraderie, and breathtaking scenery. This event takes cyclists on a challenging yet rewarding journey through some of Italy's most captivating regions, including picturesque coastal routes, lush vineyards, and soaring mountain passes. The Grand Escape is an excellent opportunity to test your bikepacking skills, build lasting friendships with fellow riders, and fully immerse yourself in the Italian cycling experience. You can experience it in Tuscany and in Friuli Venezia Giulia, near Slovenia.
By participating in these events, you'll not only have the chance to explore Italy's diverse landscapes and attractions but also challenge yourself and gain valuable bikepacking experience.
Whether you're a seasoned bikepacker or just starting, these events offer a supportive and welcoming environment where you can push your limits and discover the true beauty of Italy from the saddle of your bike.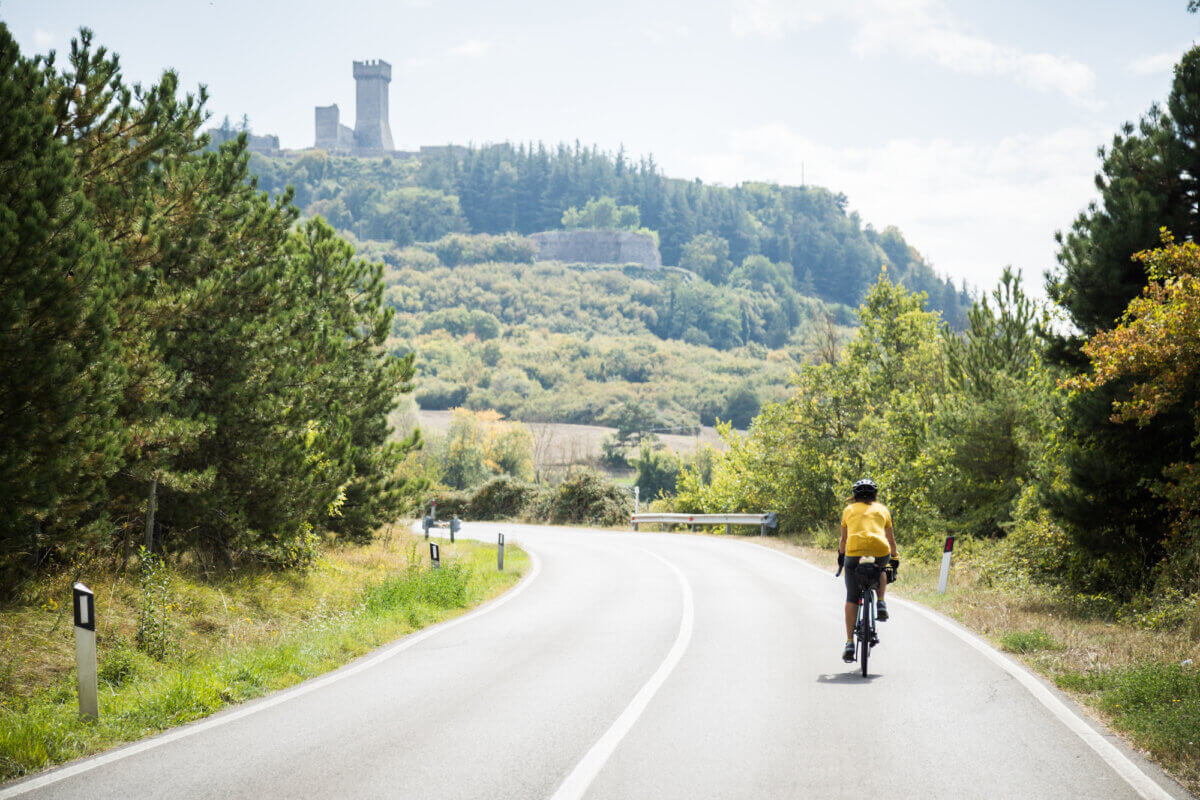 In the next week we will publish the perfect starting routes: in the meantime take a look at the guide about Tuscany.