The Italian trails presented themselves at Upcycle Caffè
2023 promises to be full of events and tours to discover Italy and beyond. We went to the Upcycle Cafè in Milan for the presentation of the 2023 trails and also to get the frame a little dirty in the Upcycle trail on Sunday, 6 November.
You've probably noticed it if you haven't lived under a rock for the last two years, but bike events, especially in trail/bikepacking, have multiplied dramatically recently. From the mountains to the sea, from the countryside to the hills, and in almost every region, it's tough not to come across a trail.
We have selected events for people who want to take the trip of their life, for those who love off-road bikepacking, for others who love road bikepacking and finally, for those looking for a gravel adventure.
No less than 22 were presented at the Upcycle café in Milan, for a total of 82 days that you could spend on your bike covering them all.
The 2023 bikepacking and gravel events calendar
Here is the calendar of the 2023 Trails in Italy presented by Rocco Filidoro, National Manager of the Cycling sector of MSP Italia.
Transumanza Trail (Tuscany) 1 April – 200 km
Veneto Gravel (Veneto) 22 April – 700 km
Sicily Divide (Sicily) April 28 – 430 km
Trinacria Bike Trail (Sicily) April 29 – 370 km
Nothing of Gravel (Trentino) 2 May – 100 km
Emilia Gravel (Emilia Romagna) 6 May 316 km
Carso Trail (Friuli, Slovenia) 12 May – 340 km
Apulia Trail (Apulia) 27 May – 300 km
Sibillini Bikepacking (Marches) Permanent route – 160 km
Tuscany Trail X Edition – (Tuscany) 1 June – 500 km
Holitrail of the Dolomites (Trentino) 1 June – 300 km
Ethir Romagna Trail (Emilia Romagna) 17 June – 400 km
Abruzzo Trail (Abruzzo) 23 June – 300 km
Augh Umbria Bikepacking (Umbria) 8 July – 130 km
Tracks 6000 (Trentino) 15 July – 150 km
NorthCape4000 (10 European countries) July 27 – 4200 km
150 S-Miles (Piedmont) 16 September – 220 km
Liguria Bike Trail (Liguria) 29 September – 300 km
Marche Trail (Marche) 13 October – 380 km
Ultrabiking Sardinia 790 (Sardinia) 13 October – 790 km
Fogliegialle (Trentino) 14 October – 90 km
Bici e Biceri (Trentino) 19 November – 55 km
In the second part of Saturday, the stands were also present: Emilia Romagna Bike Trail Nord-Ovest Divide MVM Trail Tran, Balkan Race Istraland Italy Divide Piemont, Gravel Seven Serpents** Unpaved Roads (gravel) The Grand Escape (road bikepacking) **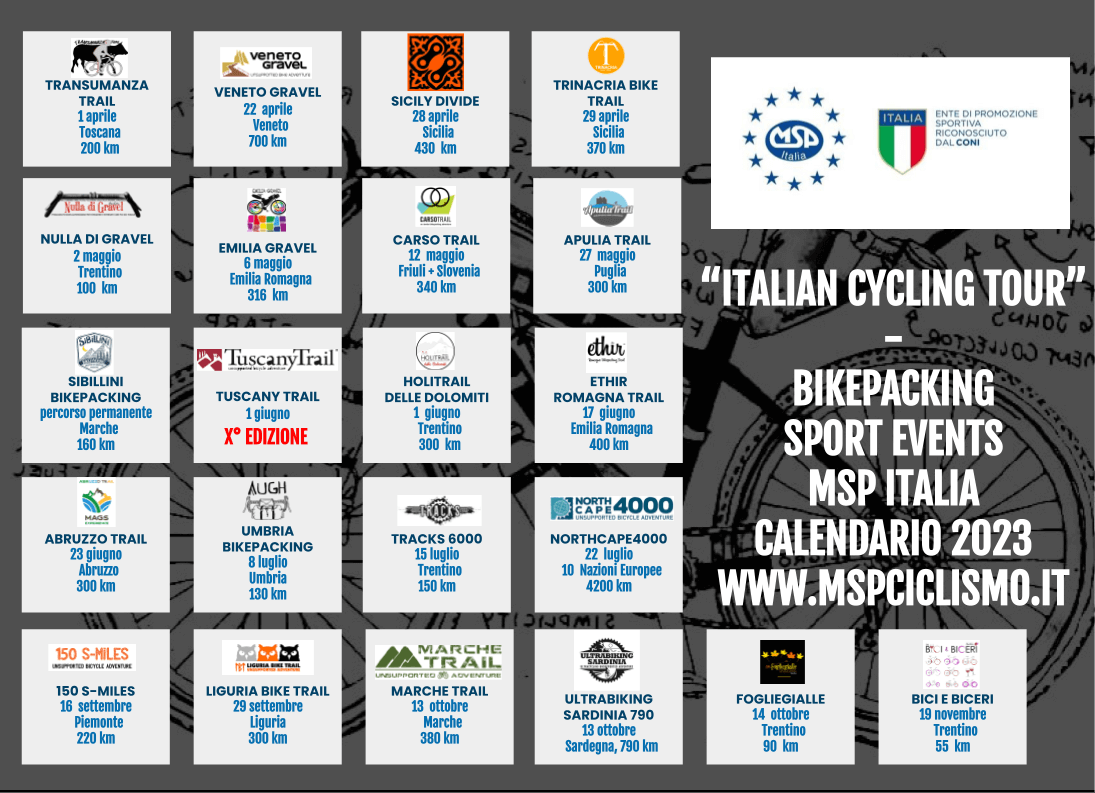 The Bike Trail Manifesto was also presented. The document, whose primary promoters are Upcycle, BAM!, MSP Ciclismo, and Miss Grape, is proposed as an interpretation of these events and outlines the guidelines for a positive development of the trails benefit to all.
You can read more about it on the MSP site.
Upcycle Trail: il gravel a Milano
After breakfast at the Caffé on Sunday, we got on our gravel bikes and set off for the 125 km of the third edition of the Upcycle Trail.
The routes wind through the countryside to the south-east of the city, designed by @loscobike, who has put together the best of LodiLeccoLodi, il Castigo, Cre.Pa.Mi. and several unpublished passages: the routes that have made the history of gravel in Milan and which are the training ground for Lombard cyclists throughout the year.
Tu a che eventi vuoi partecipare? Parliamone nei commenti qui sotto: