guide: What is bikepacking
Mini-guide on how to prepare yourself for a bikepacking trip with your own bicycle,
a sort of ABC for beginners and a memorandum for the more experienced.
When we talk about "bikepacking," we are talking about how your stuff is transported during a bicycle trip. Those who do bikepacking have eliminated the classic set-up of the luggage rack plus side bags to switch to a much more streamlined set-up with bags that hook directly onto the bicycle. This way, it is possible to travel lighter, and the bicycle is easier to handle when riding.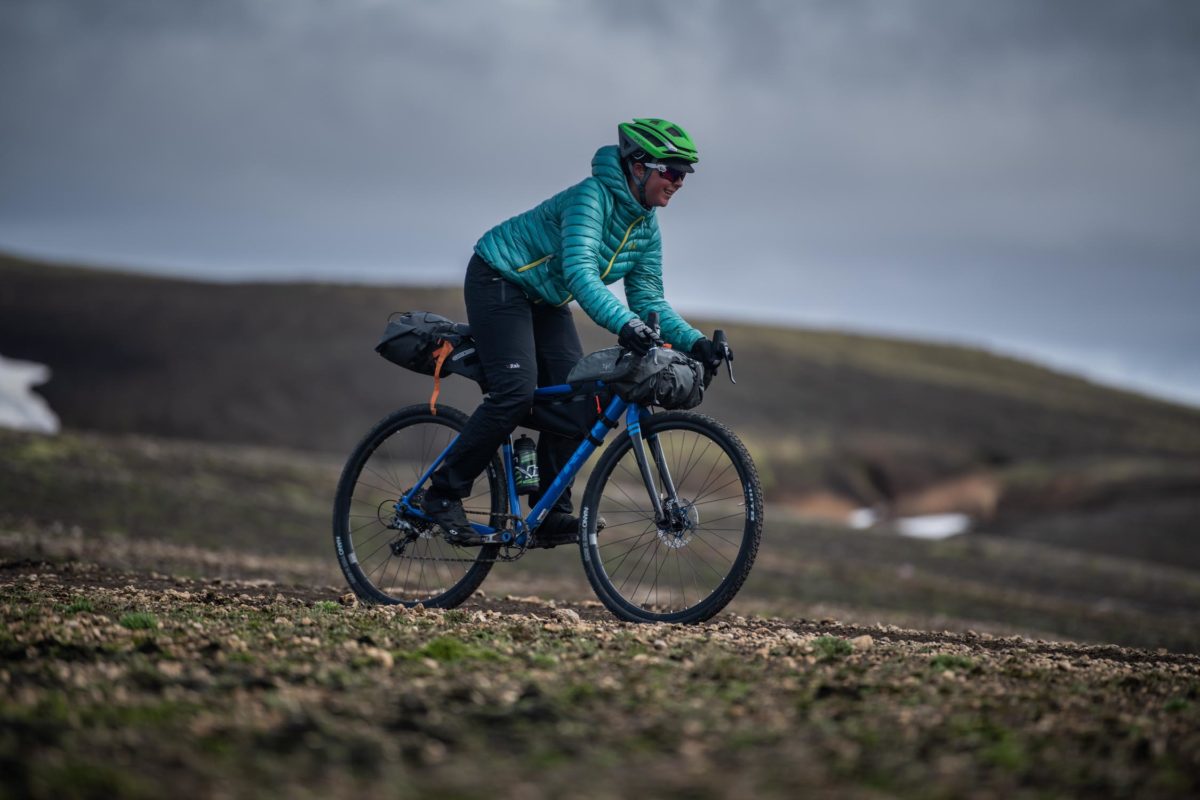 Travelling with any type of bicycle is possible since there is no longer the constraint of the luggage rack; therefore, all the cycle trails and rides are within the traveller's reach. It is possible to travel using a road bicycle rather than a MTB.
It is difficult to establish precisely the date this "movement" took shape since it was progressive. However, there are some dates that can help us:
> 2007 Revelate Designs was founded, the first bikepacking bag company;
> 2008 first edition of the first bikepacking event, the Tour Divide -16 Starters and 8 Finishers;
> 2013 first edition of the Transcontinental Race;
> 2014 first edition of the Tuscany Trail and Highland Trail 550.
Since 2014, all the hype you can see began and reached its peak in this last year.
THE BIKEPACKING BAGS
If those who practice cycle touring place the objects they carry on the bicycle inside special bags to be attached to the luggage rack, those who practice bikepacking place their objects inside bags applied directly to the bicycle frame using belts and straps. The bags can be more or less numerous in relation to the amount of material to be transported.
The 3 main ones are the handlebar bag, saddle bag and frame bag. If we add up the volumes of the various bags, the result will be a load capacity of approximately 40 litres. If we add bags to the fork, we can add another 10 litres. In this article, you will find the guide to buying bikepacking bags.
BIKE SET-UP
We understand that bikepacking is particularly suitable for off-road trails, as "conventional" cycle tourism has significant limitations on dirt roads and paths. It should therefore come as no surprise if you find yourself having to set up your mountain bike to face a bikepacking adventure. The MTB, if equipped with suspension, must be set up in such a way as to handle the greater weight due to luggage.
We know that the pressure of the fork and shock absorber (if your bike has them) depends on the rider's weight. We should then inflate the fork and central shock absorber more to compensate for the greater load on the bicycle. If the suspensions are not inflated, there is a risk that they work incorrectly until they "bottom out".
The distribution of the load on the bicycle is an aspect that should not be overlooked if we want our bike to be as easy to handle as possible. The load should be distributed between the front, rear and central bag. To keep the bicycle's centre of gravity as low as possible, we must place the heaviest objects on the bottom of the central bag.
The bag that needs to be filled with more care is the saddle bag, as it is the least fixed to the bicycle. When loaded to its full capacity, it protrudes far from the saddle. To minimise its oscillation, it is good that heavy objects are positioned in the bottom of the bag in such a way as to be as secure as possible to the seat and seat post.
We should pay particular attention to the water supply. Usually, the frame of a touring, gravel or adventure bicycle is designed to fit more than one bottle cage.
EQUIPMENT LIST
One thing is sure, the total number of objects we can transport is reduced, and if we want to be "light," we cannot load ourselves with too many kilos. All the equipment we carry must have a small size and a low weight. The list of items to bring during a bicycle trip is a very subjective topic that depends on many factors such as climatic conditions, itinerary to be covered, personal needs, accommodation, and much more.
There will be those who cannot fail to have "civilian" clothes with them, others who would never leave without a good book, while there are those who leave really carrying the bare minimum and sometimes not even that. Each person will have their own list of items that will change and adapt after each trip. 
One thing is certain, the progress of a trip and, therefore, the success of the adventure depends on our baggage.
What items should I take on a bicycle trip? The best question to ask yourself would be, "what are the activities I will do during the trip?"
RIDE
When pedalling, you must be ready to repair possible mechanical damage that the bicycle may suffer. We should therefore have some essential tools with us.
Even if we could carry all the tools we want, there will always be something we can't fix. It will be necessary to focus only on the most common problems that may arise and have the imagination to get to the first open bike mechanic if there are any breaks that we cannot repair.
Below is a list of items that will be good to have with us adapted to the type of components that your bicycle has.
Flat-blade screwdriver

Allen keys

Chainbreaker

Spoke wrench

Tire lever

Inner tube

Pump

Dropout /Gear Hanger

Cable ties

Patches

Screws

Spare Jersey 

Electrical / Duct Tape

Brake pads 

Pliers

Suspension pump

Cable (Brake and Gear)
In addition to carrying these objects around, you must have a minimum knowledge of bicycle mechanics to use them correctly. There is no point in you carrying spare brake cables if you would have no idea how to replace them if they were to break mid-ride. 
The technical clothing is very similar to that used during day trips. If the trip lasts more than two/three days, we can bring a change or wash dirty clothes. We must pay particular attention to waterproof clothing (helmet covers, jackets, trousers, shoe covers), which must be high quality. 
If you don't want to get lost, you will need to bring a GPS and/or a route map. Even if you don't want to ride during the night, it's good to have a light just in case.
EAT
You can use the common bars/dried fruit/fruit during the ride. As for meals (breakfast, lunch and dinner), you have two choices: to eat ready-made food or to cook. If we eat ready-to-eat foods and therefore take advantage of restaurants, grocery stores and markets, we don't need any heavy objects except our wallets. If we want to cook our own food, we must have a small stove, the fuel from the stove, a saucepan, cutlery and a food supply. 
It's good not to overeat at lunch if we also have to pedal in the afternoon. Digestion can cause problems under physical effort. If we take advantage of the infrastructure present on our journey to eat, we must know exactly where they are in order to avoid finding ourselves without food. It's always good to have a supply of food packed away, ready to deal with the possible unexpected delays or diversions that may occur during a trip.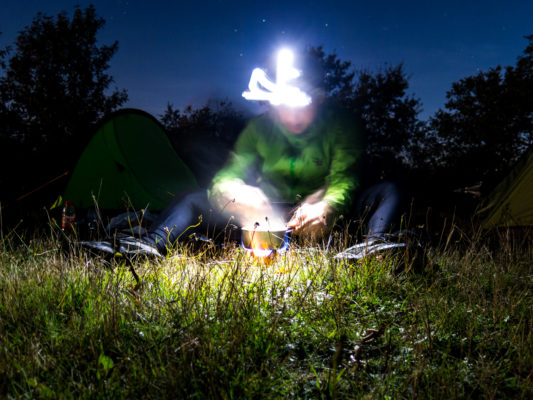 SLEEP
Depending on where and how we sleep, the equipment will change. If you decide to sleep outdoors, you will need a tent, mattress and sleeping bag of the right temperature for the season. The Spartan cyclists will be able to sleep in the cycling outfit they are wearing, while most of us will want to change, so you will need to have a spare change of clothes. Having only your pyjamas with you will be enough if you decide to sleep in an Inn or Hotel.
WASH
If it is possible to take advantage of a shower, you will need a towel to dry off, slippers and a shower gel – shampoo. Alternatively, we can use baby or sensitive wet wipes for a quick freshen-up.
OTHER
There are some objects that, regardless of the setting of the trip, will still have to be brought, and they are:
house/car keys > identity document > money > mobile phone > mobile phone charger
For photography enthusiasts (of which there are many among us), there will be plenty of camera equipment, charger, memory card and cleaning kit that also needs packing. 
WHERE TO RIDE
The bicycle is ready; everything has been loaded, and we just need to make that first pedal stroke. The travel possibilities are endless. Any cycle route is suitable for bikepacking. You can travel alone or in company, build your own itinerary at the table, take a ready-made one or participate in already organised events.